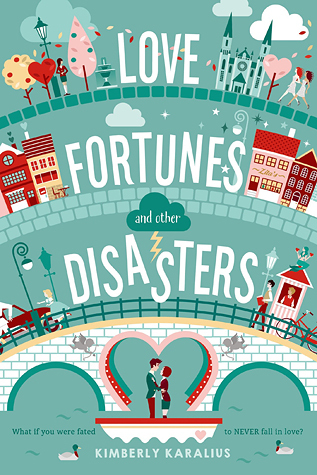 Title:
Love Fortunes and Other Disasters
Author: Kimberly Karalius
Publisher: Swoon Reads
Rating: 3/5 Stars
Paperback, 368 Pages
Published May 2015
Add it on Goodreads!
Summary: Love is real in the town of Grimbaud, and Fallon Dupree has dreamed of attending high school there for years. After all, generations of Duprees have successfully followed the (100% accurate!) love fortunes from Zita's famous Love Charms Shop to happily marry their high school sweethearts. It's a tradition. So she is both stunned and devastated when her fortune states that she will NEVER find love.

Fortunately, Fallon isn't the only student with a terrible love fortune, and a rebellion is brewing. Fallon is determined to take control of her own fate—even if it means working with a notorious heartbreaker like Sebastian.

Will Fallon and Sebastian be able to overthrow Zita's tyranny and fall in love?
I bought this book for free off of BookOutlet after that big problem I had with another book being bound backwards and upside down. As soon as I was given a store credit, I scooped this book right up! The cover itself was super adorable and drew me in, as well as the title. I couldn't wait to read it and now I'm glad that I did.
Before I begin my review I just want to point out that up until this book was actually in my possession, I was reading the title as "Love, Fortunes, and Other Disasters" instead of "Love Fortunes and Other Disasters." It seems super dumb and trivial, but it finally clicked for me once I started reading the book and discovered it actually was about love fortunes.
*sighs* So that was probably something that I shouldn't have admitted, but oh well. Now everyone knows the embarrassing story of how I've been mispronouncing this title in my head since the minute the information on this book was released.
So as the summary explains, this is a story about a teenage girl named Fallon who attends high school in a town called Grimbaud. But Grimbaud isn't just any ordinary town. The entire place is seriously centered around Love -- love charms and cupids and romantic couples everywhere. To top it all off, Zita, the most popular love charm shop owner in town, is the most popular for a whole different reason. Zita's shop distributes fortunes telling you the future of your love life -- and they are never, ever wrong. So Fallon is more than crushed when her fortune tells her that her love will never be requited -- that she is fated to never fall in love.
Ouch. That's a tough pilll to swallow. I don't know what I'd do in her situation.
So there were a lot of things that I liked about this book, and a few things that I didn't enjoy all that much. So I'll start with what I viewed a little negatively and then wrap it up with what I did enjoy.
Okay. Fallon's character really got on my nerves, and that's one way to make me definitely not like a book. I felt that she was judgemental and catty and just flat out rude and inconsiderate at times. Granted, she did come from a family where being judgemental is their job, but it really made me mad when Fallon was an overall snot to the people around her when they did nothing wrong. I spent a majority of this book thinking to myself how snobby Fallon was and how much I didn't like her. So, in all honesty, that's part of the reason that I docked stars off of this review. If I'm reading a book and I can't connect myself with (and enjoy) the main character, it makes for a very different (and frustrating) reading experience.
The other thing that threw me off a little is that I couldn't pin down whether or not the book was contemporary or had a little bit of fantasy in it. (There are some spoilers ahead so please skip to the next paragraph if you haven't read this book yet!) I was under the impression that this book was a little bit of a fantasy novel with the use of all of the love and weather charms, but I was still getting a mainly contemporary vibe from this book up until the end. Once the gang met Zita and she started melting and having statues come to life and kill them and everything, I got really confused. I thought to myself, How the heck did this book just transform into some creepy fantasy thing in the span of a few pages!? It confused me a little bit and made me like the book a little less.
However, my opinions of this book aren't all bad. I did like this book, especially the whole concept of a world where the fortune you are given has no chance of being wrong. I enjoyed the budding relationship between Fallon and Sebastian, as well as her friendship with all of her other friends. The actual plot of the story was something that I haven't heard before, and that kept me interested. I thought that this was a lighthearted romance that gave me some feel-good, happy vibes and it was a quick read that helped me kick off #TackleYourTBR for this December!
All in all, Love Fortunes and Other Disasters was an entertaining read filled with drama, heartache, and definitely a whole lot of Love. Even if the setting was a little odd for my taste and there were times where I wanted the main character to take a long walk off a short cliff, my overall take on the book is that I enjoyed reading it and would recommend it to anybody looking for a light, romantic contemporary read.
Rating: