Title: Shade Me (Nikki Kill #1)
Author: Jennifer Brown
Genre: Contemporary, Thriller
Publication Date: January 19th 2016
Summary:
Nikki Kill does not see the world like everyone else. In her eyes, happiness is pink, sadness is a mixture of brown and green, and lies are gray. Thanks to a rare phenomenon called synesthesia, Nikki's senses overlap, in a way that both comforts and overwhelms her. Always an outsider, just one 'D' shy of flunking out, Nikki's life is on the fast track to nowhere until the night a mysterious call lights her phone up bright orange—the color of emergencies. It's the local hospital. They need Nikki to identify a Jane Doe who is barely hanging on to life after a horrible attack. The victim is Peyton Hollis, a popular girl from Nikki's school who Nikki hardly knows. One thing is clear: Someone wants Peyton dead. But why? And why was Nikki's cell the only number in Peyton's phone? As she tries to decipher the strange kaleidoscope of clues, Nikki finds herself thrust into the dark, glittering world of the ultra-rich Hollis family, and drawn towards Peyton's handsome, never-do-well older brother Dru. While Nikki's colors seem to help her unravel the puzzle, what she can't see is that she may be falling into a trap. The only truth she can be sure of is that death is a deep, pulsing crimson.
Review:
I really did enjoy the synethesia aspect of this book. Never having heard of this disorder before, it was something new to experience as a reader. Nikki described emotions as colors, then rather what she is feeling was quite interesting. But synthesia wasn't enough for me to like this story. It was rough to connect with Nikki, she seemed to know everything and everyone else was clueless.
I try to open minded when I read books, but I felt her connection with Dru developed rather quickly (Which under the circumstances is some-what understandable) but then they sleep together after only knowing each other for such a short time. (I believe this is more a conflict with my values then an actual problem with the book?) But after this point I was quickly becoming frustrated with what was happening in the story. I've read Jennifer Brown books in the past and LOVED them, so I am disappointed that I couldn't love this one too.
Rating: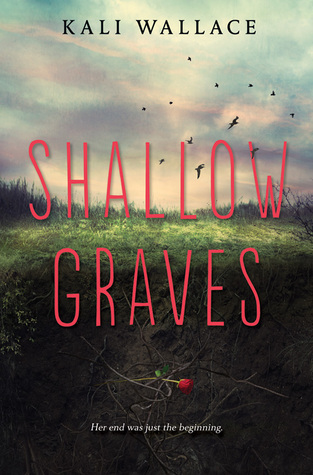 Title: Shallow Graves
Author: Kali Wallace
Genre: Paranormal
Publication Date: January 26th 2016
When seventeen-year-old Breezy Lin wakes up in a shallow grave one year after her death, she doesn't remember who killed her or why. All she knows is that she's somehow conscious—and not only that, she's able to sense who around her is hiding a murderous past. In life, Breezy was always drawn to the elegance of the universe and the mystery of the stars. Now she must set out to find answers and discover what is to become of her in the gritty, dangerous world to which she now belongs—where killers hide in plain sight and a sinister cult is hunting for strange creatures like her. What she finds is at once empowering, redemptive, and dangerous.
Review:
DNF @ 32% (& 4 days)
Shallow Graves started out interesting. The first 10% or so had me completely immersed and engaged with the story. Eventually I was having no connection with Breezy (Our MC) or anyone else who was being introduced. There is a lot of information that was being skimmed over, and to many things happening for the reader to be still left in the dark at 32%. I was really looking forward to this one too, it sounded awesome.
Rating:
Question: How do you feel when a book you been looking forward to is disappointing to you?